Green Onyx Side Table
Regular price

Sale price

$3,064.00
Size
Craftsmanship

Each product is carefully constructed by stone mason artisans so every product may differ slightly in size and colour to those visible in the online store. All of our products are original and made from 100% natural stone sourced from all around the world with different veining and patterning which makes each piece uniquely beautiful and bespoke. Stone being a natural product may contain fissures, cracks, holes and pits. These are not faults and are inherit within the stone which stems from the time the block is extracted from the mountains in the quarry it comes from. Whilst this product pictured is the exact product you will be receiving with the purchase, photos taken may show a slightly different representation due to angles and lighting used during photography.

Please take the time to read over our carefully crafted care guide to make sure you treat your Elsa Home & Beauty piece with Tender, Love & Care.
Delivery & Returns

- Handcrafted for you, ships in 1 week
- Ships from Milan, Italy
Care & Lifting Guide

Inherently crafted for enduring permanence, our handcrafted pieces are meant to enjoy a long life span.

When moving our furniture, it's essential to avoid dragging them across the floor, as this could potentially damage the connections between various components, leading to harm.

Always opt to lift each piece from a sturdy edge and transport individual parts separately, ensuring the safety of the item and preventing any breakage during transportation.
Need Help?
Introducing our exquisite Green Onyx Side Table, a stunning addition to elevate your living space. Crafted from high-quality green onyx, this side table exudes luxury and sophistication, making it a perfect statement piece. With its vibrant green color and natural veining patterns, our green onyx side table brings a touch of opulence to any room.
Experience the allure of our Green Onyx Side Table, designed to seamlessly blend elegance and functionality. The unique beauty of green onyx, with its translucent properties and captivating color variations, creates a mesmerizing focal point that adds a touch of sophistication to your decor. Whether used as a lounge table, an accent piece, or a bedside companion, our green onyx side table effortlessly enhances the ambiance of your space.
Immerse yourself in the timeless beauty of our Green Onyx Side Table. The radiant green hues of the onyx exude vibrancy and natural charm, making a bold visual impact. Meticulously crafted with attention to detail, this side table showcases the intricate veining and smooth surface of green onyx, ensuring a stunning addition to your interior design.
Indulge in the elegance of our Green Onyx Side Table and let its captivating presence become the centerpiece of your living space. With its versatile design, this side table complements various decor styles, from contemporary to classic. Experience the perfect balance of luxury and functionality with our green onyx side table, a remarkable piece that adds a touch of natural sophistication to your home.
Invest in the enchantment of our Green Onyx Side Table today and elevate the aesthetic of your living space. Let the radiant beauty of green onyx mesmerize you and transform your interior into a showcase of refined taste. Experience the captivating allure of our onyx side table and make a statement with a touch of natural sophistication
All our bespoke designs are available for custom sizing and your specification of marble, please email us at hello@elsahomeandbeauty.com.au for any pricing combination of design and material.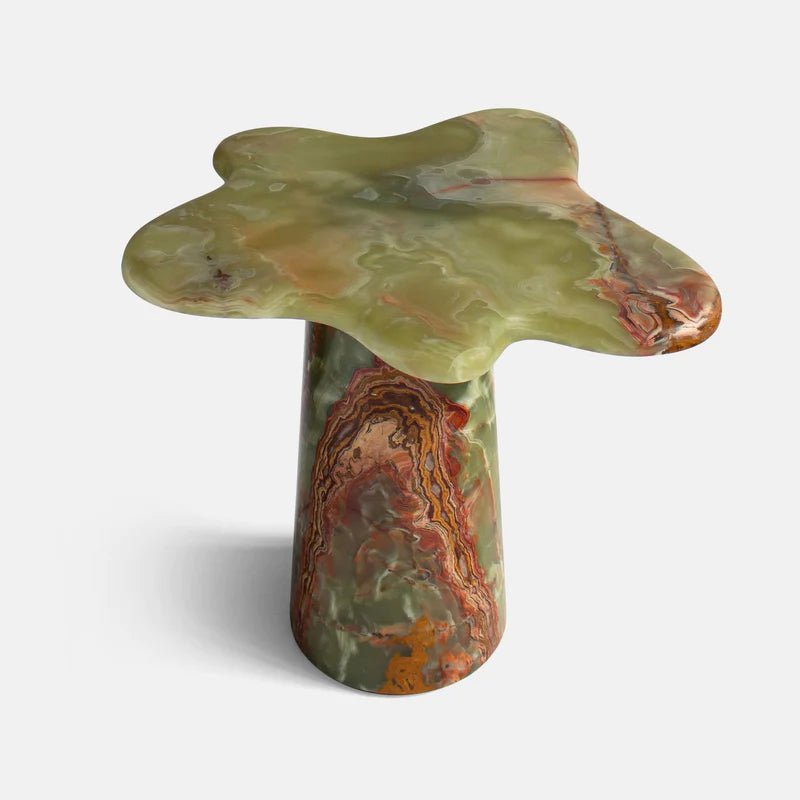 Worldwide Shipping Available

Responsive Customer Service Team